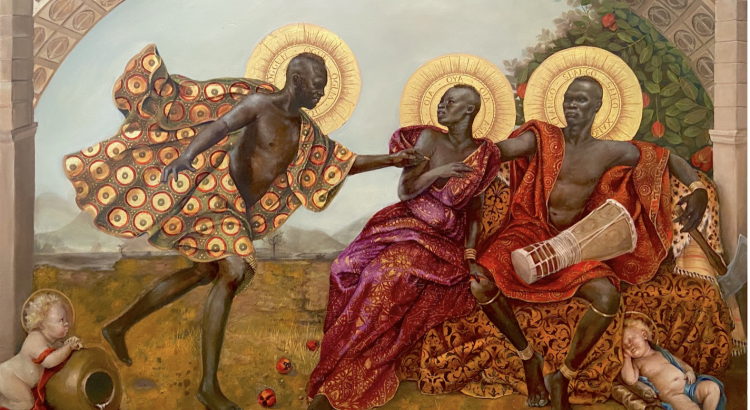 The Department of Classics is pleased to announce Harmonia Rosales: Entwined, an exhibition that presents a new and dynamic body of work by celebrated Afro-Cuban American artist Harmonia Rosales. Rosales' interweaving of representations from ancient Greek and Yoruba mythologies invites viewers to challenge their ideas about identity and empowerment. Women and people of color, the protagonists of her canvases, assume roles of power and beauty in exquisite imaginings of ancient myths and Renaissance paintings.
The exhibition will take place from Saturday, January 8, 2022 to Sunday, March 20, 2022 at the Art, Design & Architecture Museum at the University of California, Santa Barbara. 
Harmonia Rosales: Entwined is a collaboration between the artist, the Argyropoulos Chair in Hellenic Studies, the Department of Classics, and the Art, Design & Architecture Museum at the University of California, Santa Barbara.
For more information, please click here.
Image: Courtesy of the artist, © 2021 Harmonia Rosales.
The Department of Classics invites applicants for possible openings as Temporary Part-Time Lecturer positions for the 2019-2020 academic year at the University of California, Santa Barbara. Appointments are variable in terms of percentage time and appointment may be from one quarter to a year, with the possibility of reappointment.
Areas of specialization:
-Generalists
-Teaching Classics in translation
-Teaching ancient Greek at all levels
-Teaching Latin at all levels
Minimum Qualification: Ph.D. in Classics or related discipline (e.g. Comparative Literature with a specialization in Classics) is required at the time of application. The salary is based on UC's salary scales. To ensure full consideration, please submit a cover letter, curriculum vitae, syllabi for two upper division GE courses and arrange for three letters of recommendation to be sent through UC Recruit https://recruit.ap.ucsb.edu/JPF01525 . The department is especially interested in candidates who can contribute to the diversity and excellence of the academic community through teaching, research, and service. For information on our department, please visit our website https://www.classics.ucsb.edu/ .
The University of California is an Equal Opportunity/Affirmative Action Employer and all qualified applicants will receive consideration for employment without regard to race, color, religion, sex, sexual orientation, gender identity, national origin, disability status, protected veteran status, or any other characteristic protected by law.