Classics in the Community

Members of the Classics department enjoy giving talks at local schools and social and philanthropic organizations. We are happy to talk on a variety of subjects at different levels, from Bronze Age pots to Roman love poetry, from gladiators to mythology. Please contact us to arrange for a speaker to come and visit. E-mail the department's outreach liaison, Professor Brice Erickson: berickson@classics.ucsb.edu; Professor Sara Lindheim: lindheim@classics.ucsb.edu; or Anna Roberts: aroberts@hfa.ucsb.edu
UCSB Classics at the Greek Festival!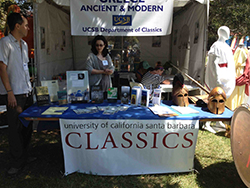 Last year, the department participated in the 40th annual Santa Barbara Greek Festival in Oak Park.  Our booth, generously sponsored by the Santa Barbara chapter of AHEPA, showcased UCSB Classics to the community.  Inside we featured activities for children, who were encouraged to construct their own monster Medusa, hero Perseus, or goddess Athena, color the letters of the Greek alphabet, a mythological scene, or a hoplite, read about mythology, complete a crossword puzzle, or do an Ancient Greek word search.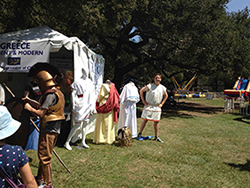 Outside we highlighted the literary, historical, cultural and archaeological activities of the Classics Department and the university's Hellenic Studies committee, in particular our upcoming lecture by writer and scholar Daniel Mendelsohn,sponsored by the Argyropoulos Endowment in Hellenic Studies," Cavafy at the Margins: Geography, History, Desire," Saturday, October 19th at the Karpeles Manuscript Museum in downtown Santa Barbara.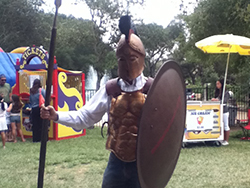 The greatest draw was our display of Ancient Greek clothing and the examples of hoplite armor for people to try on.  Our booth was so popular that we were featured in the photograph on the front page of the Santa Barbara News Press (Sunday, July 28th).  Thanks to all the professors and graduate students who helped out, to our younger volunteers, and especially to Aerynn Dighton, who brought the costumes and tirelessly showed them off!