Jan
25
Fri
Kirk Ormand (Oberlin College), JP Sullivan Memorial Lecture: "Intersexed or mollis? Ovid's Hermaphroditus and the Figural Tradition"

@ HSSB 4080
Jan 25 @ 3:00 pm – 5:00 pm
"Intersexed or mollis? Ovid's Hermaphroditus and the Figural Tradition"
When interpreting the figural tradition of Hermaphroditus, scholars have frequently turned to Ovid's narrative about the creation of this intersexed divinity (Metamorphoses 4.271-388).  A close examination of Ovid's narrative, however, reveals that Ovid's version of Hermaphroditus is less radically sexually ambiguous than the sculptural and painted figures.  Rather than portraying Hermaphroditus as a sexually ambivalent individual, Ovid instead likens him to the mollis male, a non-normative, but familiar, Roman gender identity.  We would do well to view Ovid's playful but conservative version with suspicion, and turn instead to understanding the figural tradition in its own right.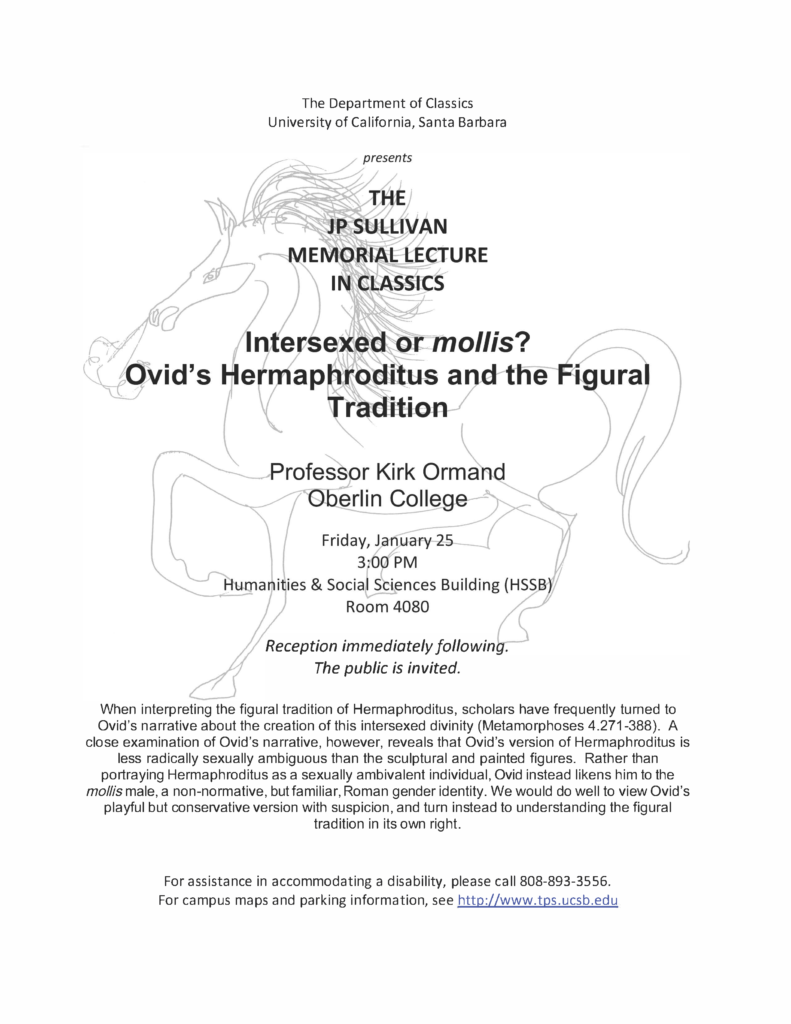 Feb
1
Fri
Greek sight-translation exam.
Please inform Anna whether you will sit for the morning or the afternoon session.