When:
October 21, 2017 @ 5:00 pm
2017-10-21T17:00:00-07:00
2017-10-21T17:15:00-07:00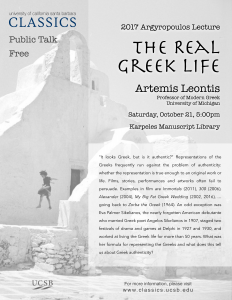 Karpeles Library
Saturday, October 21, 5PM
The Real Greek Life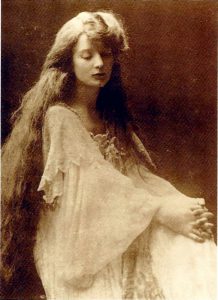 "It looks Greek, but is it authentic?" Representations of the Greeks frequently run against the problem of authenticity: whether the representation is true enough to an original work or life. Films, stories, performances and artworks often they fail to persuade. Examples in film are Immortals (2011), 300 (2006), Alexander (2004), My Big Fat Greek Wedding (2002, 2016), … going back to Zorba the Greek (1964). An odd exception was Eva Palmer Sikelianos, the nearly forgotten American debutante who married Greek poet Angelos Sikelianos in 1907, staged two festivals of drama and games at Delphi in 1927 and 1930, and worked at living the Greek life for more than 50 years. After her death she was recalled as the real, authentic performance: "She was the only Ancient Greek I ever knew," according to an actor who worked with her. What was her formula for representing the Greeks and what does this tell us about Greek authenticity?
Sponsored by the Argyropoulos Endowment in Hellenic Studies